Tree-Bites Delta-9 Gummies – Tangerine
$9.99
Bursting with a bright citrus flavor, these tangerine gummies taste just like the delectable and delightful little fruits. Save yourself a trip to the dispensary and experience full-bodied canna-bliss.
Sweet, citrusy flavor 

Great mood-elevating and relaxation effects 

10 Gummies per Bag | 100 mg Total Delta-9 THC
Additional information
| | |
| --- | --- |
| Weight | 1.5 oz |
| Flavor | Tangerine |
---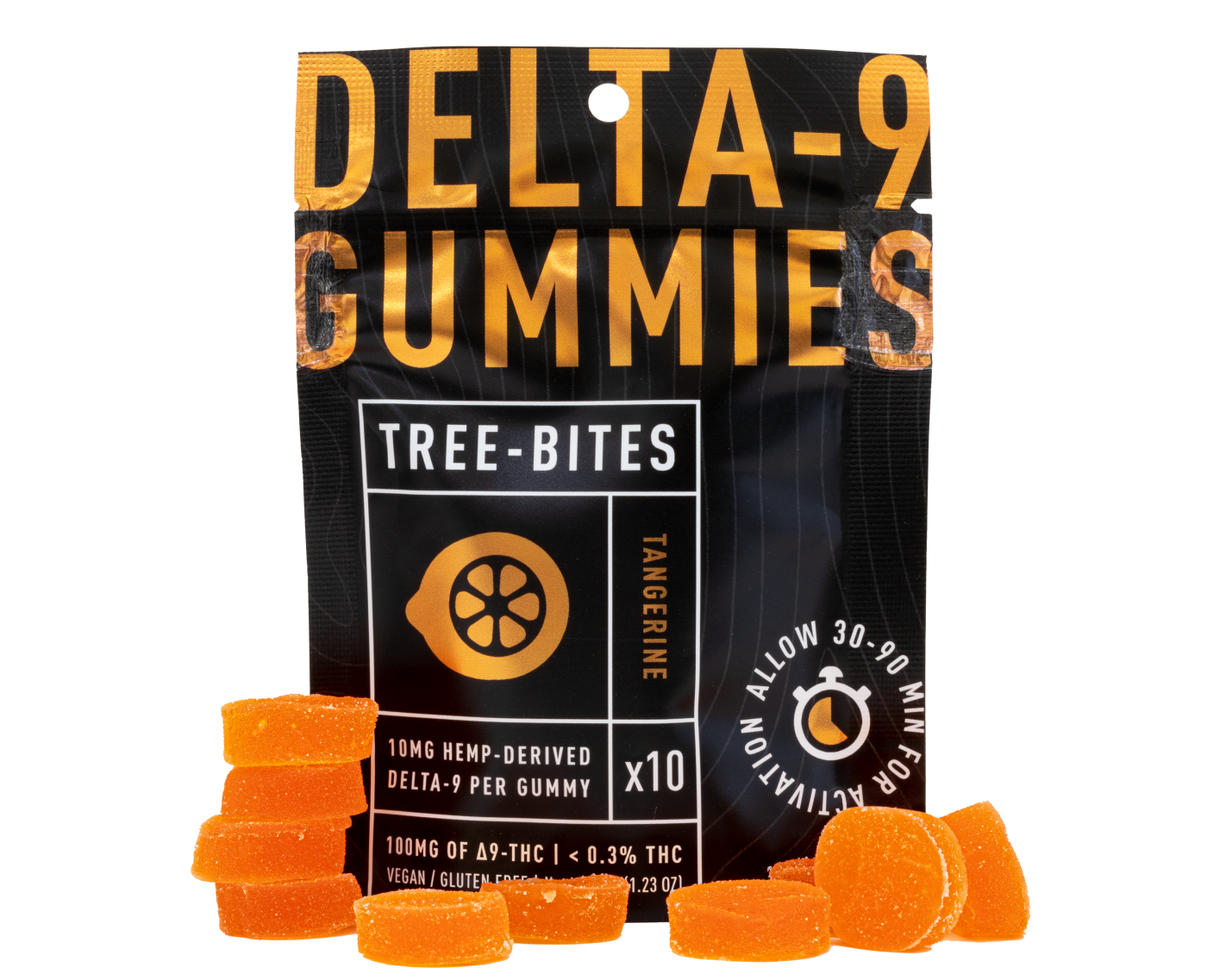 Indulge in the sweet and citrusy flavors that will take your taste buds on a journey, boosting your mood and entering a state of relaxation.
Crafted with premium hemp-derived Delta-9 THC, Tree-Bites are federally legal across the United States. 
We invite you to invigorate your taste buds and experience the other side of cannabis with Tree-Bites Delta-9 THC gummies. 
Made from U.S. organically grown hemp

DEA-certified lab tested

Farm Bill Compliant | Under 0.3% Delta-9 THC

Manufactured in the USA

Must be 21 Years or Older to Purchase

Warning: May cause psychotropic effects
SUGGESTED USE: Start with ¼ of a gummy to gauge individual sensitivity. Increase by ¼ of a gummy until the desired effect is achieved, up to one full gummy. Do not consume more than one full gummy in a 24-hour period.
WARNINGS: Effects may last 6 hours or more. Results may vary. May cause drowsiness. Do not operate heavy machinery or motor vehicles after consuming
Storage: Keep in a cool, dry place, away from heat light, and humidity to preserve freshness.
Caution: Do not exceed the suggested use. Do not use if the seal is broken. Please consult with a medical professional before use if you have a medical condition or take medication. If you experience any adverse symptoms after use, discontinue and consult a medical professional.
This product contains hemp-derived THC, which may result in the consumer failing a cannabis drug test.
KEEP OUT OF REACH FROM CHILDREN
Must be 21 years or older to purchase or consume

Consult a doctor or physician before use

Do not use if pregnant, nursing, or trying to conceive

Use responsibly. Do not drive or operate any machinery while using this product

May cause drowsiness

---