The Tree-Rolls Loyalty Program is our way of saying thank you to our best customers, you!
With the Tree-Rolls Loyalty Program, you will be able to earn points for every purchase you make on our website and save on later purchases.
How It Works
You can earn points in lots of different ways such as:
– Making Purchases – Earn 1 point for every $1 spent!
– Referring Your Friends & Family – Earn 100 points ($5 off) for every referral
– Celebrating Your Birthday – Earn 100 points ($5 off) on your birthday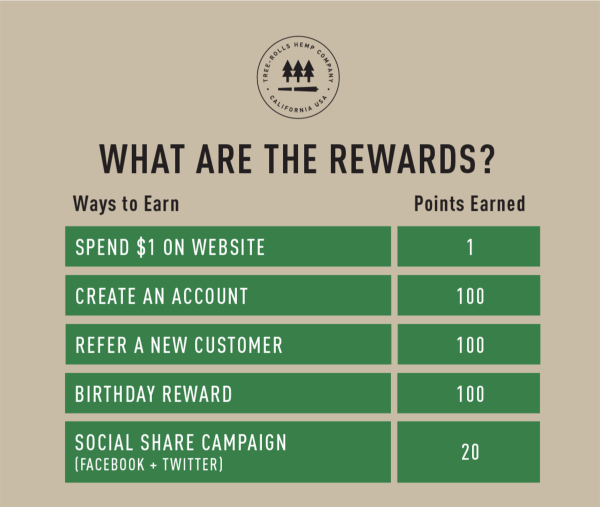 When you have enough points, get ready to save by redeeming your points.
You can redeem your points for discounts on your next purchase:
– 100 Points: $5 Reward
– 200 Points: $10 Reward
– 400 Points: $20 Reward
Earning points and redeeming points on the Tree-Rolls Rewards is available exclusively to Tree-Rolls customers that have a registered account.
Set Up Your Account
If you have a registered Tree-Rolls account, you're eligible to earn points starting today!
If you don't have an account, go to our Sign In Page and click "You Don't Have an Account?". From there, you can enter your information and register your own Tree-Rolls account.

Once you are logged in, you will be able to earn points by making purchases, referring your friends, and much more.
Frequently Asked Questions
How many ways can I earn points?
For an in-depth list of earning opportunities, please log in to your Tree-Rolls account here and select the "Rewards" tab under the My Account Dashboard. On the Rewards Tab, you will see all of the available earning opportunities there.
How do I redeem points?
Sign in to your Tree-Rolls account and when you are at Checkout, press "Click Here" on the top Points message on your screen. A popup will appear showing the different redemption options you have.
If I forgot my password, where do I go to reset it?
If you need to reset your password, please go here and enter your email to reset it.
How do I get points for sharing on social media?
To earn points for your social media shares, go to your My Account page and click the "Rewards" Tab. On the Referral Link section, click the Facebook or Twitter button. Next, a popup will appear to share on the platform you select and share it with your family and friends. After sharing, you will receive 20 points!
Can I stack my rewards?
Yes, you can use multiple rewards on a single purchase!